Universal Sparrow Spooker
$22.95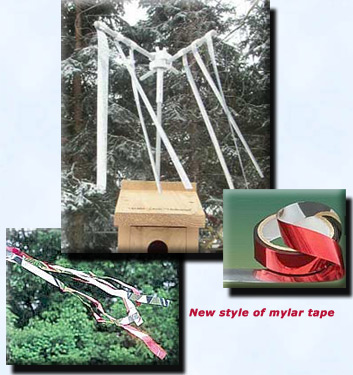 10000000

"The Universal Sparrow Spooker" is not a trap, but a deterrent, often used in conjunction with the Deluxe Repeating Sparrow Trap.

Features:
Infinitely adjustable for any nestbox size or style
Sturdy yet lightweight construction
Made of weatherproof materials for years of service
All included hardware made from corrosion-resistant materials
Includes two mounting brackets and 25-foot roll of mylar
(See new red/silver mylar tape style, depicted above.)
New, improved hardware may vary slightly in appearance from that depicted above.
For years, Bluebird landlords have been using makeshift "Sparrow Spookers" as a deterrent to House Sparrows entering nestboxes where Bluebirds had begun nesting. These have proven to be extremely effective for protecting Bluebird nestings during the egg-laying, incubating and nestling period. Nestbox designs vary widely, and the Spooker should be positioned carefully on the nestbox to be effective. For this reason, no commercial version of the Sparrow Spooker has been available — until now!

The Universal Sparrow Spooker was designed to be infinitely adjustable for any nestbox size or style, and any mounting configuration. The design allows for both vertical and horizontal adjustment, as well as allowing for infinite adjustment of the angle of the "V" rods from which the mylar streamers hang. Constructed of sturdy yet lightweight weather-proof materials, the Universal Sparrow Spooker will give you years of service. All metal hardware included is made of corrosion resistant materials.

Unit comes with two mounting brackets for situations where you have two nestboxes for the Bluebirds to choose from. Simply screw a bracket onto the back of each nestbox to make it "spooker ready". When the female has made her choice, and the first egg is laid, you can quickly and easily insert the vertical rod into the mounting bracket with a minimum of disturbance to the Bluebirds. Additional mounting brackets are also available.

The Universal Sparrow Spooker is shipped with a 25-foot roll of 3/4″ mylar, from which you can cut the streamers to your desired length, then quickly snap them into place with the included clips. The mylar provided should be enough to replace the streamers on one spooker several times. 25-foot Replacement rolls of mylar are also available here.
Leaving Spookers in place between nestings is strongly advised against for two reasons:
The Spooker should be left in place all during the nesting process, but should always be removed after fledging.
There are no documented cases of Bluebirds abandoning a nesting due to addition of a spooker if it is used correctly (i.e. intalled once the birds have chosen a box and are committed to a nesting)
Install Sparrow Spooker body in mounting bracket only after the first egg has been laid, to avoid scaring Bluebirds away from using a box.

It could potentially discourage the Bluebirds from re-using the nestbox
It could result in House Sparrows' becoming too acclimated to the Spooker, thereby reducing its effectiveness during subsequent nestings.

The mounting bracket may be left in place, making it easy to pop the Spooker back in place if the box is chosen for another nesting.
Click here for Additional Spooker Photos and Information on proper use.

Status: This item usually ships in 3-5 business days.  Note! Spookers ordered at the same time as the DRST Repeating Sparrow Trap will be shipped INSIDE the trap.  The mylar scare tape will be in the bait compartment.